Vignesh Muthuvijayan | Home
Associate Professor, Department of Biotechnology, IIT Madras

Coordinator, NPTEL, IIT Madras

Coordinator, IIT Madras Bioincubator

Dr. Vignesh Muthuvijayan is a Chemical Engineer by training. He received his BTech in Chemical Engineering from A. C. Tech, Anna University, Chennai. He went on to pursue his Master's degree in Chemical and Biochemical Engineering at University of Maryland, Baltimore County and his PhD in Chemical Engineering at Oklahoma State University. He also worked as a post-doc at Johns Hopkins University. After spending a little more than 8 years in the United States, he returned to India and joined the Department of Biotechnology at IIT Madras in October 2010. His research interests are in the area of biomaterials and their applications.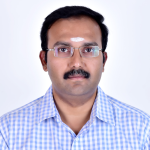 ---
Vignesh Muthuvijayan | Research
Research Interests
Designing multifunctional bioactive scaffolds for tissue regeneration
Developing controlled drug delivery systems
Engineering surfaces for long term patency
Current Projects
Development of bioactive wound dressing materials
Fabrication of nanocomposite scaffolds for bone tissue engineering
Design of novel self-assembling systems for biomedical applications
Surface modification of polymeric biomaterials
My publications can be viewed at my Scopus profile or Google Scholar profile.
Funding
Indian Institute of Technology Madras
Department of Biotechnology (DBT), GoI
Science and Engineering Research Board (SERB), GoI
Vignesh Muthuvijayan | Teaching
Courses I teach ...
Vignesh Muthuvijayan | Contact
Vignesh Muthuvijayan
BT-II 207, Department of Biotechnology
Bhupat and Jyoti Mehta School of Biosciences
Indian Institute of Technology Madras
Chennai 600036, Tamil Nadu, INDIA
vigneshmⓐiitm·ac·in
| | |
| --- | --- |
| | +91-44-2257 4123 |