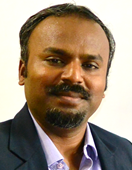 Ph. D., 2006, Georgia Institute of Technology
M. S., 2000, University of Illinois Urbana Champaign
B. Tech, 1997, Indian Institute of Technology Madras
Vanakkam, Namaste, Hello - welcome to my webpage.
I am Sathyan Subbiah. I work as an associate professor in the Department of Mechanical Engineering at IIT Madras. I am part of the Manufacturing Engineering group.
My job involves teaching, research and professional services in the area of manufacturing engineering. My training and interests are in the area of machining. Machining is nothing but manufacturing objects by providing shape to raw material by breaking and removing unwanted regions. I am also interested in the broken material that comes out of this process.
Current activities: Teaching CAD in manufacturing, and engineering drawing. Research explorations in triboemissions, graphene exfoliation, grinding and powder fabrication.
Past work: Micro-milling thin sheet embossing molds, graphene exfoliations, vibratory media finishing process monitoring, compliant abrasive tool polishing process development.
-----------
OPENINGS: One opening available for NUS (Singapore)-IITM Joint PhD programme of study; candidate should have 90% or more equivalent marks in their undergraduate program of study. Candidate also has to clear admission process at both IITM and NUS Singapore.