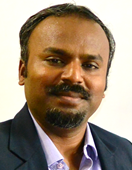 Ph. D., 2006, Georgia Institute of Technology
M. S., 2000, University of Illinois Urbana Champaign
B. Tech, 1997, Indian Institute of Technology Madras
Vanakkam, Namaste, Hello - welcome to my webpage.
I am Sathyan Subbiah, currently a professor in the Department of Mechanical Engineering at IIT Madras.
I teach, undertake research, and provide professional services in the field of manufacturing engineering.
My training has been in fixturing and micro-machining.
Machining is a way of manufacturing objects, providing shape to raw material by breaking and removing unwanted regions, just like an artisan chiselling away on a piece of stone. I am also interested in the broken material that comes out of this process.
Current activities: Teaching Modelling and Simulation in Manufacturing, Automation in Manufacturing. Exploring research in space manufacturing, diamond coatings/membranes, novel manufacturing processes, triboemissions, and graphene exfoliation.
Past work: Micro-milling thin sheet embossing molds, graphene exfoliations, vibratory media finishing process monitoring, compliant abrasive tool polishing process development.
Openings:
Project hirings will start soon. Watch this space!
What`s Happening:
* Arun presented his MS Synopsis
* Extra Terrestrial Manufacturing (ExTeM) group formed in Feb 2021
* Space Talks are being organized as part of ExTeM