WETLANDS ECOSYSTEM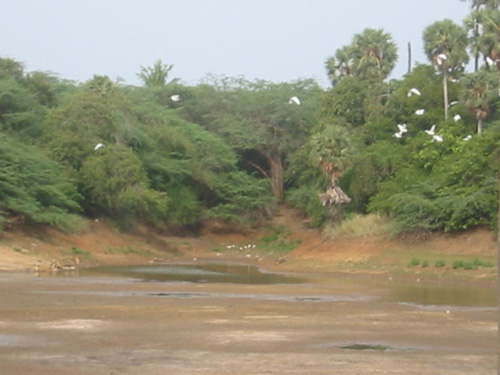 The main source of fresh water in the campus is the lake which is located almost in the middle of the campus towards the Eastern boundary wall. The lake is source of fresh water supply to the campus residents. It is also the only natural source of water for the wild animals and birds. Late into the summer (July - August), the lake goes dry and one can walk across it. During the North-West Monsoon, the lake is full with water and different life forms are abundant in and around it. It caters to fishes, a variety of frogs, insects and birds. The surroundings of the lake hosts few of the oldest trees in the campus, like the tamarind and a strangler fig tree. The lake is surrounded by a large number of trees and plants of different species. The lake has an extension like a canal, which stretches up to the backside of Sarayu and holds water in Monsoon.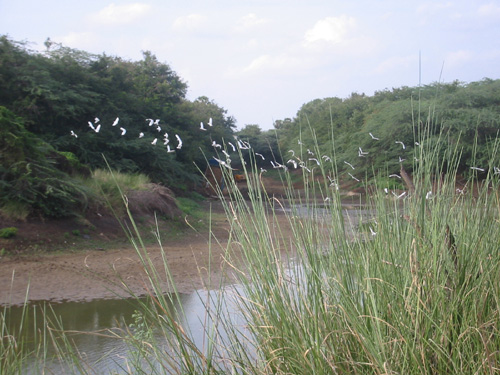 On the other side of the lake, the two oxidation ponds for the treatment of waste water from the campus are locaed. Though, these are artificially created, today, these oxidation ponds and the surrounding marsh, forms one of the best wetland ecosystems seen around. The oxidation ponds attract a large number of water birds, like, little grebe, cormorants, herons, ducks, lapwings etc. to the ponds. The surrounding marsh has very good growth of water reeds which also acts as a natural water cleaning system. The surroundings of these marshy area as well as the marsh have a thick growth of 'Prosopis juliflora' or 'velikkathan' trees which give ideal roosting ground for birds like open-billed stork and white ibis, night and pond herons, black, yellow and chestnut bitterns. IIT Campus is the only roosting site in the city for open billed storks and white ibis. These birds might have chosen this habitat due to:
Less human interference and disturbance
Sturdy trees which can carry their weight and temperature control by the marsh and the water reeds (it has been observed by Salim Ali that storks and other heavy birds water birds require trees which can support their weight). Prosopis (velikkathan) forms an ideal one at that.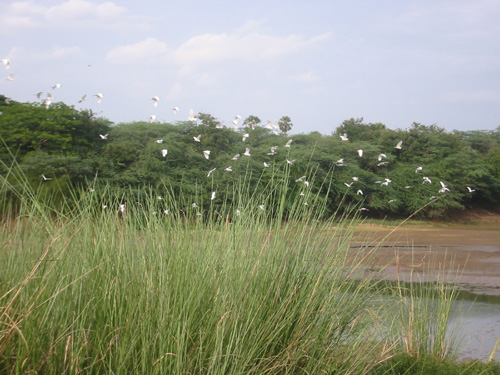 The marsh also caters to birds like white breasted water hen, Indian Moor Hen, a large number of pond and night herons, reed warblers etc. The marsh also has a good population of crabs, Flap shell and star shaped tortoises, jackals, mongooses etc. The deer and blackbuck use the surrounding forest area during the hot day time and feed on the pods of Prosopis which is rich in proteins.
News
Join Us
Feed Back
Contact Us
Fawn's Club
Do's and Dont's
Home